Welcome
2022 marks 15 years where Tim and Anne have been collaborating on short film productions. Since 2007 they have built a portfolio that includes serious drama and comedy. Prior to this, both Anne and Tim have worked on a range of various productions from 2000 onwards.
.

48 Hour Film Project


Over 40 teams entered the 48 hour film challenge held
in London over the weekend of 23rd to 25th September
2011.


Film-makers from around the UK travelled to London on
Friday evening to find out the genre for their team, by
picking a folded paper from a hat.


Anne entered a team called 'Anothershortfilm', and as
Team Leader Anne did the honours by picking the folded
paper from the hat and got Sci Fi genre. The film had
to adhere to 3 more requirements, the first being that
the film must include a specified prop which was any
type of brush. The second mandatory requirement was
the inclusion of the line "should we leave it like this?",
and the third requirement was that a character called
Alistair or Alison Sanders, a Collector featured in the
film. The short films had to comply with the rules of the
competition.


All the films submitted on the Sunday 25th September
2011 within the 48 hour deadline, were screened at Prince
Charles cinema, Leicester Place, London on 28th and
29th September 2011 and an awards party took place
on 29th September 2011.

Our completed film is called 'Clone Tech UK'.


Due to the Covid pandemic no film
productions in 2020 or 2021.
Possibly films planned for 2022 depending on situation.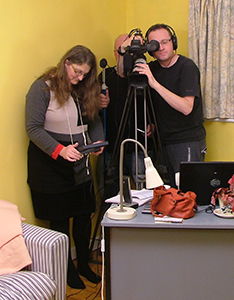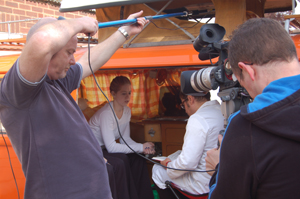 .

Short film called Headache


Representatives from BabyCow Productions Ltd, producers of 'Gavin & Stacey', 'Saxondale', 'The Mighty Boosh', and '24 Hour Party People' have complimented the film 'Headache' in its own right, and they were impressed by the talent of the lead actress, far right above Tracy Canavan-Smith.

Synopsis of Headache

An office worker is becoming increasingly
frustrated by her co-worker's irritating
behaviour in the office. Despite this,
Veronica's curiosity gets the better of her.



48 hour film challenge


Webmasters Tim Lewis & Anne Misselbrook