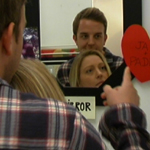 Anne and Tim entered a competition called '50kisses'. Anne and Tim
decided to make a film from a script called 'Smasheroo' written by
James Howard.
The film is on the 50kisses website.
The idea of the competition is to create a feature length movie from selected short films which are chosen.

Smasheroo - Written by James Howard Directed by Anne Misselbrook 2012
Drama
A woman who has suffered a head injury
is tended to by her concerned husband.

Smasheroo is available to see online on
the 50kisses website.